Generating leads is an essential part of any successful business, no matter the size businesses are no exception, and they must be especially conscious of how they go about generating leads. The right lead generation strategy can help a business to grow and increase its customer base, while the wrong strategy can lead to wasted resources and missed opportunities.
It's not easy for business owners to know where to start when it comes to lead generation. That's why we have put together the Lead Generation Pulse Check. This simple assessment is an ideal way to help business leaders assess their current lead generation efforts and see where they can make improvements.
The Lead Generation Pulse Check asks 7 key questions about the processes and strategies that a business has in place to generate leads. Based on the answers, the pulse check provides an instant easy-to-understand score that indicates how well the business is currently doing in terms of lead generation. The pulse check also gives practical advice on how to improve the score and useful hints and tips on how to make better use of resources and strategies available to generate leads.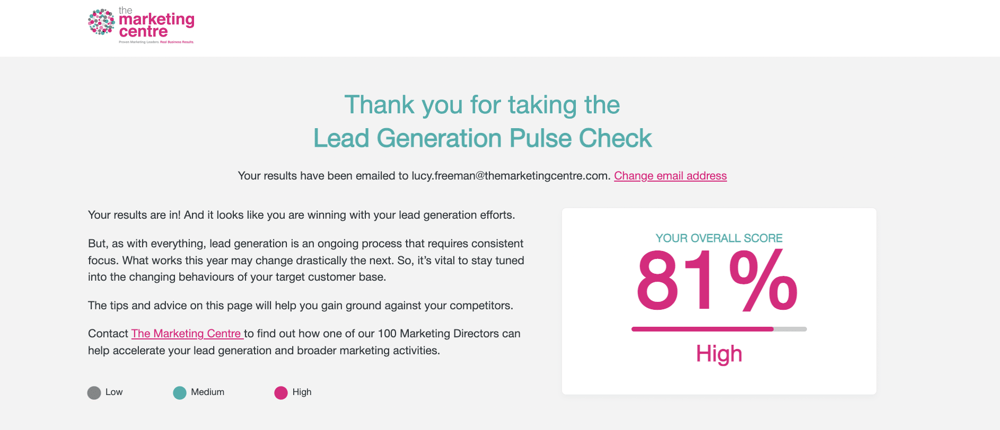 For those who complete the Lead Generation Pulse Check, We have put together the B2B Lead Generation Guide. This guide contains advice and tips from the combined expertise of our proven Marketing Directors and is an invaluable resource for SME businesses. It includes useful tips on how to generate leads, nurture them and make the most out of them. It also provides advice on how to develop an effective lead generation strategy, such as understanding the target audience, developing content that resonates with them and using the right channels to reach them.

All in all, the Lead Generation Pulse Check and B2B Lead Generation Guide are essential tools for business owners looking to improve their lead generation efforts. With the right advice and guidance, businesses can be sure to make the most out of their leads and see positive growth.